Moving to GA4 By July 1st
Google Analytics Universal will no longer function after July 1, 2023. Analytics must be switched over the the new Google Analytics platform, GA4.
We were proactive in this regard and set up GA4 for all client websites in the Autumn of 2021.
Once the GA4 account is set up and collecting data, there are some other requirements. The new GA4 account has to be connected to the old GA-Universal account. There is also a GA4 Setup Assistant that offers a 7-step checklist of data conversion.
Despite the fact we completed the setup, Google continues to send out warnings. Given Google's behavior in the past few weeks, I would expect that to escalate prior to July 1st.
Check Your Setup
You can check your GA4 setup. Here are the steps:
a. Sign into your old Google Analytics account. You should see this countdown. Click on the "Go to Setup Assistant" button: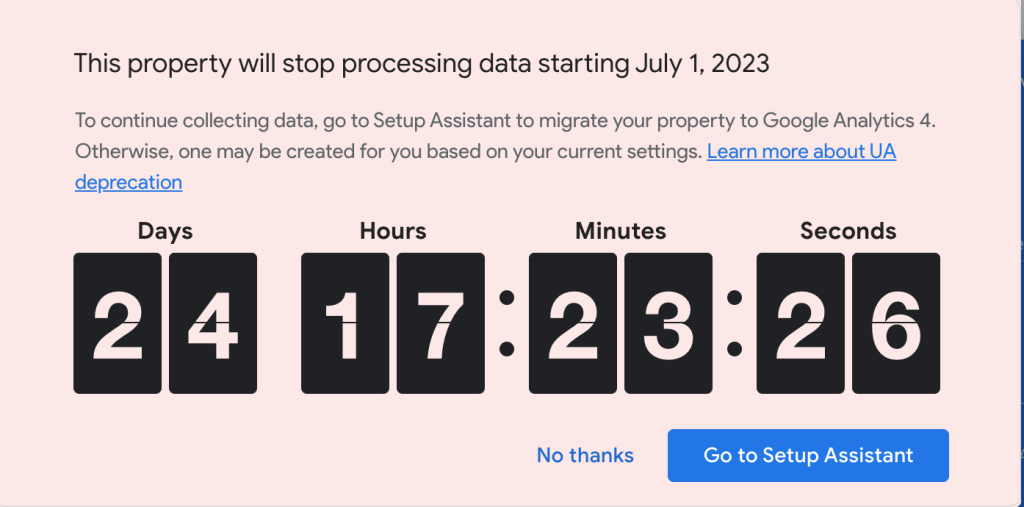 b. You should see this screen – note the Green box that says "Connected". Then, click "Go to your GA4 property":

c. Look for this dual confirmation – the top box shows where you should see your website domain name or business name. The second box you should see 7/7 Marked complete:

That's it. Now you can safely ignore further Google warnings. If you are not seeing this, contact [email protected] right away!