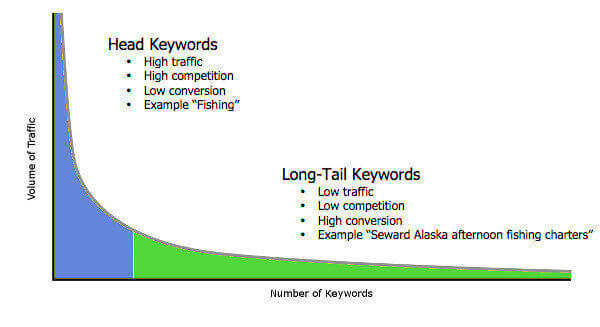 Keyword Research Leads to Explosive Traffic Growth
Keyword research is vitally important if you want to grow the volume of traffic to your website. Here's what you'll need to know:
Find Long Tail Keywords
If you create a graph of keywords that brought traffic to your site, you'd probably find a graph similar to the one above. There are some keywords that deliver a lot of traffic (blue). There are keywords that each deliver a little traffic (green). However, as you can see in the graph above, long-tail keywords cumulatively deliver as much traffic as the high traffic keywords. Often, long-tail keywords deliver much more traffic in total than the high traffic volume keywords.
Your Advantage! Your Competitors Are Not Competing For Long-Tail Keywords!
Business owners don't generally check their position in keyword phrases that use three, four, five or more words. The irony is that is where the most conversions are generally found. An exaggerated example is the keyword "fishing". If your website was at the top of the results in a search for fishing, it would generate a ton of traffic. However, much of that traffic would realize that they needed to be more specific. "Oh, I meant fishing in Russia."
No one is checking the position of their website in a search for "Adirondack guided fly fishing afternoon trips". However, someone typing (or speaking) that search is pretty specific. It would be possible to presume that they are more likely to engage with the website(s) they find, and the probability of them converting is much higher than "Head" keywords.
How to Find Long-Tail Keywords
Google Search Box
There are a couple of simple methods you can use to find long-tail keywords. One way is to start typing a keyword into Google's search box. You'll see a number of suggestions are offered to you. Using this technique, you can go deeper and deeper by choosing one of the suggested searches and start entering that keyword which will bring up more – and so on…

2. Scroll to Bottom of Search Results in Google
Using the same keyword "fishing", Google provides a list of related keywords at the bottom of each search page. You've probably seen this but never really noticed: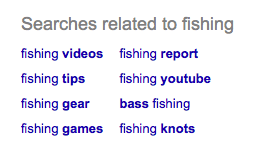 3. Use your website statistics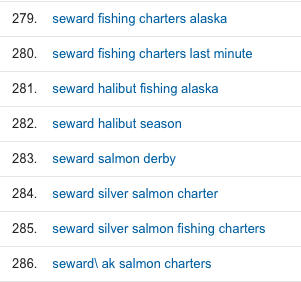 Your website statistics will have tons of long-tail keywords, particularly if you extend the time period examined to a few years. There will be a lot of "garbage" keywords in there, but there will be plenty of gems as well.
4. Use keyword research tools
There are plenty of tools out there that would help you create a list of keywords. Chief among them is Google's Keyword Planner.
Once You Have a List, Then What?
Gather your list of long-tail keywords, then begin concocting articles about each of the topics. Turn each of the articles into a page or post on your website. This requires some creativity as you definitely want people to read and share the articles. Coming up with headlines that catch people's attention and curiosity is a real benefit, and that's something that is difficult to learn, but well worth the time invested. Don't forget to apply the basics of SEO to each Write an article where the "theme" or focus is on one of the long-tail keywords from the list you developed. The objective is to have a page on your site as an answer to the query someone enters into the search engine.
Summary
Using keyword analysis to supplement the value your site offers to any particular subject or theme is a technique that has been touted online since the beginning of search engines, but is rarely used. It's a technique that can be used to substantially increase traffic to your site over time without having to worry about the latest algorithm update in Google. It will not only boost your traffic but it will also help with conversions. If combined with great website architecture and basic SEO principles, this technique can be used to create a website that dominates its theme. Keyword research is the key.