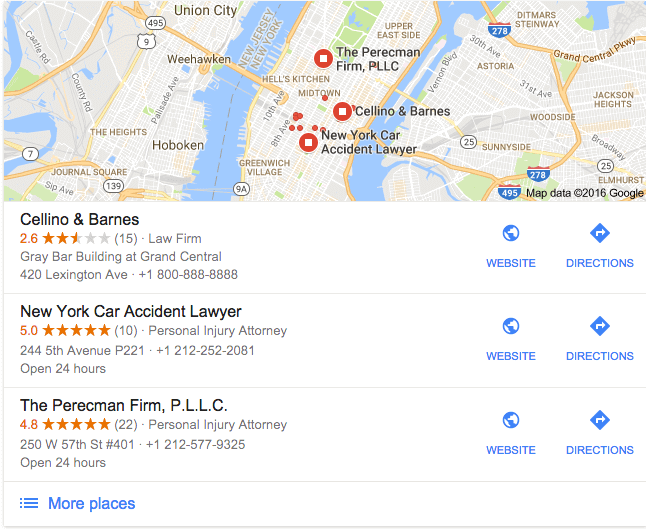 Local SEO is the new, modern form of Yellow Page advertising. Very few people still use the Yellow Pages to find local service related businesses. Everyone, from the very elderly to young people who are not even familiar with Yellow Pages, and everyone in between use the internet.
Local search results are becoming even more important as cell phone use increases. Searching for something "nearby" will offer results limited to a small geographic area – the smallest possible!
The image above is an example of Local search results – those are the results offered in a recent search for "personal injury attorneys nyc".
Local SEO is the placement of pages from your website into the results of the search engines for a relevant search. These three law firms receive the lion's share of the leads for personal injury in NYC. It's not the only way to market your company by any means, but it's a very effective, cost-efficient, passive way to generate a lot of revenue from a lot of sales leads.
Google is constantly changing the format of this page, and will likely continue to do so in the future. In the summer of 2015, Google changed the results from what became known as the "7-pack" to the current "3-pack" eliminating four more businesses from the first page of the results.
With every change, it seems as if the competition gets steeper. Fewer and fewer businesses are represented which results in a greater concentration of sales leads among the businesses at the top of the list. Over a long period of time, this unequal distribution of leads can't help but result in the consolidation of businesses, as the gap widens between those that generate leads and those that don't.
If your business is not at the top of the local search results in some or any of the relevant keywords, then I can only hope other forms of marketing are helping out. Blogging, Facebook, Pay-Per-Click advertising, radio, TV, and newspaper all offer some options, but few are as valuable as Local SEO search results. It's the new Yellow Pages.