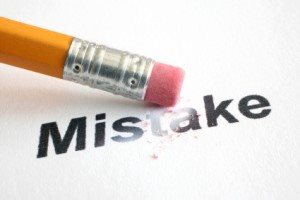 Have you left the control of your domain name to someone outside of your company?
Many small business owners have lost their domain name. The result? A lot of time and money required to change all of your advertising, promotions, business cards (and so on) to a new domain name overnight. Plus, in the search engines, it's like starting from zero.
It's not the end of the world, but it's a huge setback that's completely unnecessary.
How Does That Happen?
Your website is pretty important to your business. Your domain name is pretty important to your website.
If you are like most website owners, it's entirely possible that you've left your domain name details to someone who set up your website years ago, or someone who works on it today. That's not always a bad thing, but it's far from ideal.
When your website was set up, there were a lot of details and terminology that most small business owners were not familiar with. It was easier to find someone that knew their way around, and have them set up the basics of what you'd need to represent your business online.
Problem #1 – Security
One big problem is the result of domain registrar's security policies! One very unfortunate policy is that the domain can't be renewed unless ownership can be proven.
An offer to renew the domain without access to the domain account will be rejected. That is, I couldn't offer the domain registrar the $10 or so that it takes to renew your domain for a year until the account access can be cleared up. You either gain access to the domain account within the grace period, or you lose the domain.
It's a ridiculous policy! Employees of domain registrars are (to date) unable to explain how renewing a domain name about to expire does could violate someone's security. Yet, the policy remains in place at a lot of big name domain registrars.
Problem #2 – Renewal Notices
Renewal notices are sent out to the Administrative contact for the domain name. If the email address for the Admin contact is not intact, or going to someone outside the business, they may be ignored and often are ignored. The business owner may not even know the domain was about to expire until one day, suddenly, the website is not available online.
Once the website is no longer available, then there's a scramble, and it becomes a much more urgent matter than it otherwise would be. A routine $10 annual administrative fee suddenly becomes a minor crisis for the business.
In addition to the website not being available, there's a time limit to prove ownership of the domain name. If ownership is not proven before the grace period ends (usually 45 days), then the domain name can be lost forever.
Proving ownership is an onerous task. Avoid it if possible!
Problem #3 – Domain Control
Most of the problems associated with the wrong person in control of the domain name seem to be those that arise from neglect rather than malicious intention. However, why take the chance?
When the domain name is under the control of someone else, hosting can be changed, the password can be changed, billing, and so on without notifying the business that supposedly owns the domain name.
It's not common to trust any one person, particularly a non-family member who's not directly employed by the business with an asset valuable to the business without some controls. But that's very common when it comes to domain names!
Problem #4 – Search Engine Position
If your website is unavailable, or if you lose the domain name altogether like some of our clients actually have, then whatever position in the search engine results that your site managed to attain is now suddenly gone.
You'll have to start all over again and it could be months before you are able to regain the former position – if you ever regain it at all!
The Solution
1. Find out who the Administrative contact is. Try one of these. If it's a private domain information, then you'll have to contact the registrar:
https://who.godaddy.com/ or
https://who.is/
2. Get access to the domain name account. Find out from the whois information above where the domain name is registered. There's a login and password for that account. Find that information when it's not a crisis. Record the information in a file cabinet, or among several employees.
If the domain name is in the account of someone else, grouped with a number of other domain names, then create your own domain name account and transfer the domain into that new account.
3. Change the password of the domain name account if the Admin contact for the domain name is someone outside the company. No one needs access to that unless they are changing the hosting.
4. Change the Admin contact email address to a company email address. There is usually one address like [email protected] that would always be monitored by someone, even if some employees are on vacation.
5. Breathe a sigh of relief. You have avoided a crisis!